AGCO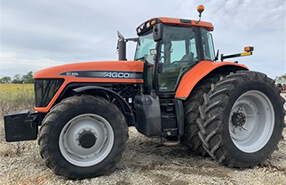 Factory Original Agco Manuals
Agco is one of the leading agriculture equipment manufacturers. Agco produces some of the most iconic equipment of all time including the Tractor, Baler, Backhoe, Planter and Windrower to name a few. Click an equipment type from the list below or call us to purchase a factory original Agco operator, service repair, electrical wiring or parts catalog manual.
Click Your Agco Equipment Type Below
Related Questions
What equipment do AGCO make and sell?
The AGCO Corporation offers a broad range of tractors, combine harvesters, hay and forage equipment, seeding and tillage implements, grain storage and protein production systems, as well as replacement components and self-propelled sprayers, to farmers all over the world.
What brands do AGCO make?
AGCO makes a bunch of different brands. Some of them includes Challenger?, Fendt?, GSI?, Massey Ferguson?, Precision Planting? and Valtra?.
Does AGCO have the right to repair?
Currently, there is no federal right to repair law in the United States. Whether an owner has the right to repair depends on the specific laws and regulations in the jurisdiction where the equipment is located. Another conditions could be the terms of any warranty agreements associated with the equipment.