BRANSON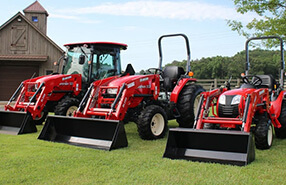 Factory Original Branson Manuals
Branson is one of the leading agriculture equipment manufacturers. Branson produces some of the most iconic equipment of all time including the Wheel Tractor among others. Click an equipment type from the list below or call us to purchase a factory original Branson operator, service repair, electrical wiring or parts catalog manual.
Click Your Branson Equipment Type Below
Related Questions
What are Branson wheel tractors, and how are they different from other tractors?
Branson wheel tractors are compact tractors designed for use in small farms, gardens, and other light-duty agricultural tasks. These tractors are known for their durability, efficiency, and versatility. They are equipped with advanced features like hydrostatic transmissions, independent PTOs, and powerful engines. Branson tractors are different from other tractors in terms of their power, agility, and maneuverability. They are built to handle tough jobs in tight spaces, making them ideal for small-scale farmers and hobbyists.
What is the warranty on Branson wheel tractors, and what does it cover?
Branson offers a comprehensive warranty on their wheel tractors, covering the engine, transmission, and other major components. The warranty varies depending on the model and the region, but most tractors come with a 6-year limited powertrain warranty. This warranty covers defects in material and workmanship and is transferable to the next owner if the tractor is sold. Branson also offers a 2-year bumper-to-bumper warranty that covers all parts and labor, including wear and tear items like belts and hoses.
Who are Branson Tractors made by?
Branson Tractors is a brand of tractors that is owned and operated by Kukje Machinery, a South Korean company that has been manufacturing tractors since 1968. Kukje Machinery produces a range of tractors under various brand names, including Branson, TYM, and Landini. Branson tractors are manufactured in South Korea and sold in North America through a network of authorized dealers. The company prides itself on its commitment to quality and reliability, and its tractors are known for their durability, performance, and affordability.