HESSTON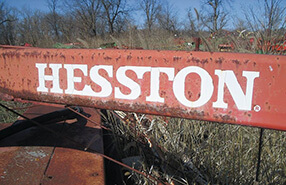 Factory Original Hesston Manuals
Hesston is one of the leading agriculture equipment manufacturers. Hesston produces some of the most iconic equipment of all time including the Baler, Bale Accumulator, Mower Conditioner, Windrower and Tractor to name a few. Click an equipment type from the list below or call us to purchase a factory original Hesston operator, service repair, electrical wiring or parts catalog manual.
Click Your Hesston Equipment Type Below
Related Questions
Who is the manufacturer of the Hesston Baler?
Hesston Balers are manufactured through 'Hesston by Massey Ferguson'. The Brand has had a collaborative partnership for 75 years. And makes Hesston balers, mowers, rakes, windrowers, and more.
What is the weight of a Hesston Baler?
A Hesston Baler weighs approx. 5721 lbs. The Hesston Baler requires a tractor PTO power of 55HP.
Which Square Baler is the most reliable?
The current baler with the most reliable and most productive reputation, is Hesston's 2200 Series. Hesston introduced its first large square baler back in 1978.