SPRA-COUPE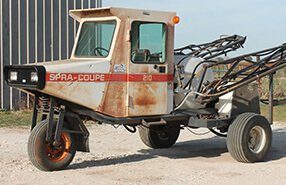 Factory Original Spra-Coupe Manuals
Spra-Coupe is one of the leading agriculture equipment manufacturers. Spra-Coupe produces some of the most iconic equipment of all time including the Sprayer among others. Click an equipment type from the list below or call us to purchase a factory original Spra-Coupe operator, service repair, electrical wiring or parts catalog manual.
Click Your Spra-Coupe Equipment Type Below
Related Questions
Who makes Spra Coupe?
Spra-Coupe is a brand of self-propelled sprayer produced by AGCO Corporation. AGCO Corporation is a global manufacturer and distributor of agricultural equipment and services, headquartered in Duluth, Georgia, United States.
What information is included in the Spra-Coupe user manual?
The Spra-Coupe user manual includes important information about the operation, maintenance, and safety of the sprayer. It includes instructions for starting and stopping the sprayer, adjusting the spray nozzles, and troubleshooting common issues. The manual also includes a maintenance schedule and information about replacing parts and performing routine maintenance tasks. Additionally, the manual includes important safety information and precautions to follow while operating the sprayer.
Where is SpraCoupe made?
Spra-Coupe was manufactured by AGCO, which has multiple manufacturing facilities across the United States and globally.