WHITE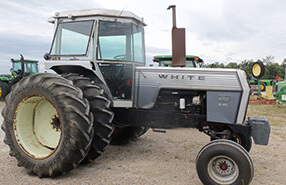 Factory Original White Manuals
White is one of the leading agriculture equipment manufacturers. White produces some of the most iconic equipment of all time including the Tractor and Planter among others. Click an equipment type from the list below or call us to purchase a factory original White operator, service repair, electrical wiring or parts catalog manual.
Click Your White Equipment Type Below
Related Questions
What are the key features of the White Planter 1211 model?
The White Planter 1211 model is a no-till, row crop planter that features 12 rows with a row spacing of 30 inches. It has a central-fill seed hopper, a seed-rate control system, and a high-speed planting option.
What type of attachments can be used with the White 8270 Combine?
The White 8270 Combine can be used with a variety of attachments, including headers for different crops, a straw chopper and spreader, and a grain tank extension.
What are the major differences between the White 6100 Series and the 6200 Series Planters?
The 6100 Series is smaller than the 6200 series and it is typically used for small-scale planting operations. It has fewer row spacing options and a smaller seed hopper capacity, whereas the 6200 series is a more heavy-duty planter, with more row spacing options and a larger seed hopper capacity.