IMPALA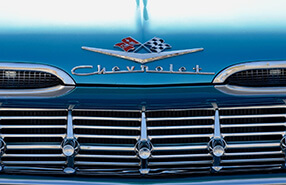 Factory Original CHEVROLET IMPALA Manuals
Click below to select your year CHEVROLET IMPALA. View factory original owners, service repair, electrical wiring diagram and parts catalog manuals for the CHEVROLET IMPALA. If you're looking for FACTORY manuals, DIY Repair Manuals is your online superstore. Click or call now.
Click Your Year CHEVROLET IMPALA
Related Questions
What is the fuel economy of the Chevrolet Impala?
Depending on the engine and transmission, the Chevrolet Impala uses different amounts of fuel. The 3.6-liter V6 engine achieves 18 mpg in the city and 28 mpg on the highway, compared to the 2.5-liter four-cylinder engine which gives an economy of 22 in the city and 31 on highway.
What type of transmission does the Chevrolet Impala have?
The Chevrolet Impala has travelled with a variety of automatic and manual transmissions. It has 2-, 3-, 4-, and 6-speed automatic and 3 and 4-speed manual gearboxes.
How many generations of CHEVROLET IMPALA are there?
CHEVROLET IMPALA has ten generations starting from 1960 to the latest in 2020.