GEO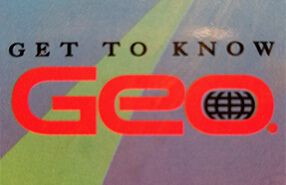 Factory Original Geo Manuals
Geo is one of the leading automobile manufacturers. Geo produces some of the most iconic vehicles of all time including the Prizm, Tracker, Metro and Spectrum to name a few. Click a model from the list below or call us to purchase a factory original Geo owners, service repair, electrical wiring or parts catalog manual.
Click Your Geo Model Below
Related Questions
What car replaced Geo Metro?
The Geo Metro was discontinued in 1997. After its discontinuation, General Motors replaced it with the Chevrolet Metro, which was sold until 2001. The Chevrolet Metro was later replaced by the Chevrolet Aveo in 2004.
What was the last year for Geo Prizm?
The Geo Prizm was last produced in 1997. After that, the model was discontinued and replaced by the Chevrolet Prizm, which was produced until 2002. The Chevrolet Prizm was essentially a rebadged version of the Toyota Corolla, as part of a joint venture between General Motors and Toyota.
Is a geo tracker a 4x4?
Yes, the Geo Tracker was available as a 4x4 or four-wheel-drive vehicle. The four-wheel-drive version of the Geo Tracker was particularly popular among off-road enthusiasts due to its compact size and light weight, which made it agile and maneuverable in challenging terrain. The four-wheel-drive system on the Geo Tracker was a part-time system, which meant that the driver had to manually engage or disengage it depending on driving conditions.