HYUNDAI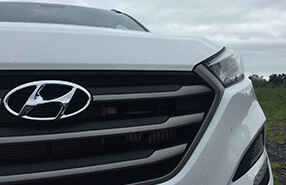 Factory Original Hyundai Manuals
Hyundai is one of the leading automobile manufacturers. Hyundai produces some of the most iconic vehicles of all time including the Santa Fe, Elantra, Tiburon and Sonata to name a few. Click a model from the list below or call us to purchase a factory original Hyundai owners, service repair, electrical wiring or parts catalog manual.
Click Your Hyundai Model Below
Related Questions
Which Hyundai car is best?
It is difficult to say which specific Hyundai car is 'best,' as the best car for one person may not be the best for another person. Hyundai offers many car models, including sedans, SUVs, and hybrids. Some of the company's popular models include the Hyundai Sonata, a mid-size sedan; the Hyundai Santa Fe, a mid-size SUV; and the Hyundai Ioniq, a hybrid car. Each of these models has its unique features and capabilities, and they are all highly rated by industry experts and consumers.
How does Hyundai's Blue Link technology work?
Blue Link is Hyundai's connected car technology that enables drivers to access various services and features from their smartphones or other devices. Some of the services and features available through Blue Link include remote start, remote lock and unlock, vehicle location, and maintenance alerts. Blue Link uses a combination of cellular and GPS technology to connect the vehicle to the internet and allow drivers to access these services.
What fuel type does Hyundai recommend for its vehicles?
Hyundai recommends using the specific type of fuel that is recommended for the specific model of the vehicle. The recommended fuel type for a Hyundai vehicle can be found in the owner's manual or on a sticker inside the fuel door. Hyundai generally recommends using unleaded gasoline for its vehicles equipped with gasoline engines.