ISUZU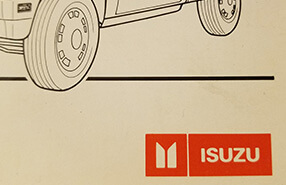 Factory Original Isuzu Manuals
Isuzu is one of the leading automobile manufacturers. Isuzu produces some of the most iconic vehicles of all time including the Trooper and Rodeo to name a few. Click a model from the list below or call us to purchase a factory original Isuzu owners, service repair, electrical wiring or parts catalog manual.
Click Your Isuzu Model Below
Related Questions
What is Isuzu best known for?
Isuzu is best known for producing a range of commercial vehicles, including trucks and buses, and diesel engines for various applications. The company has a long history and a strong reputation in the commercial vehicle industry and is known for producing high-quality, reliable products used in various industries worldwide. Isuzu has also gained recognition for its expertise in diesel engine technology, and its engines are used in a wide range of vehicles and equipment.
Are Suzuki and Isuzu the same?
No, Suzuki and Isuzu are two separate companies. Suzuki is a Japanese multinational corporation that produces various products, including automobiles, motorcycles, ATVs, and outboard marine engines. Isuzu is also a Japanese company that specializes in producing commercial vehicles, such as trucks and buses, and diesel engines for various applications.
When did Isuzu come to America?
Isuzu Motors Limited, the parent company of Isuzu, has been in the United States for many years. However, the company's passenger vehicle division entered the US market in 1981 when it began importing the Isuzu P'up, a small pickup truck, to the United States. Over the following years, Isuzu continued to expand its presence in the US market, introducing a range of passenger vehicles, including sedans, SUVs, and minivans.