LOTUS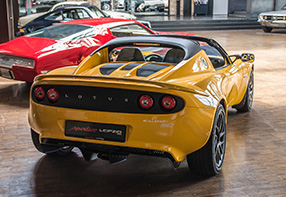 Factory Original Lotus Manuals
Lotus is one of the leading automobile manufacturers. Lotus produces some of the most iconic vehicles of all time including the Elise, Espirit and Elan to name a few. Click a model from the list below or call us to purchase a factory original Lotus owners, service repair, electrical wiring or parts catalog manual.
Click Your Lotus Model Below
Related Questions
What is the driving experience like in a Lotus Elise?
The Lotus Elise is a lightweight sports car that offers a thrilling driving experience. The car's low center of gravity and precise steering make it a joy to drive, and its responsive throttle and brakes give the driver complete control over the vehicle. Elise's minimalist design means that it doesn't have all of the creature comforts of a typical car, but this only adds to the feeling of being connected to the road.
How does the Lotus Elan compare to other sports cars in its class?
The Lotus Elan is a high-performance sports car that competes with other models such as the Porsche Boxster and the BMW Z4. While these cars all offer similar levels of performance and handling, the Elan stands out for its lightweight construction and advanced aerodynamics. The Elan is also more affordable than many of its competitors, making it a popular choice among sports car enthusiasts.
What is the top speed of the Lotus Espirit?
The top speed of the Lotus Esprit varies depending on the model and year of production. The Series 1 and 2 Esprits had a top speed of around 135 mph, while the Series 3 and later models had a top speed of up to 160 mph. The final iteration of the Esprit, the Esprit V8, had a top speed of around 175 mph, making it one of the fastest production cars of its time.