BOMAG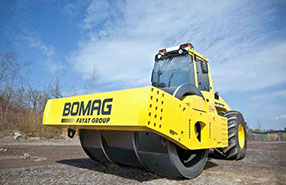 Factory Original Bomag Manuals
Bomag is one of the leading construction equipment manufacturers. Bomag produces some of the most iconic equipment of all time including the Cold Planer, Vibratory Plate and Compactor Roller to name a few. Click an equipment type from the list below or call us to purchase a factory original Bomag operator, service repair, electrical wiring or parts catalog manual.
Click Your Bomag Equipment Type Below
Related Questions
What is BOMAG Fayat group?
BOMAG is the global market leader in Compaction Technology. Since 2005, the company has been a member of the FAYAT GROUP. BOMAG is a manufacturer of soil compaction machines, asphalt stabilizers/recyclers, land milling machines, and pavers.
What oil does a BOMAG roller take?
HVI 46 Hydraulic Oil is suitable for Bomag road & path equipment along with 15w/40 E9 Engine Oil.
What is a BOMAG used for?
BOMAG machines are used in various stages of construction projects, such as road construction, landfills, and soil compaction.