DIECI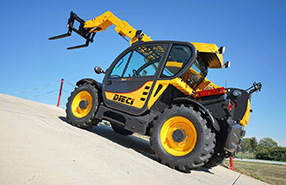 Factory Original Dieci Manuals
Dieci is one of the leading construction equipment manufacturers. Dieci produces some of the most iconic equipment of all time including the Dumpers and Telehandler to name a few. Click an equipment type from the list below or call us to purchase a factory original Dieci operator, service repair, electrical wiring or parts catalog manual.
Click Your Dieci Equipment Type Below
Related Questions
What are the benefits of using DIECI Dumpers and Telehandlers?
The benefits of using DIECI Dumpers and Telehandlers include increased productivity, improved safety, and reduced operating costs. These machines are designed to be highly efficient and effective, allowing operators to quickly and safely move large quantities of material. Additionally, their low maintenance requirements and long service life make them a cost-effective choice for construction and industrial operations.
What are the different models of DIECI TELEHANDLER available?
DIECITELEHANDLER offers a range of telehandler models with varying lifting capacities, boom lengths, and attachments. Some of the most popular models include the D 10.13, D 10.23, D 10.33, D 10.43, and D 10.53.
How easy is it to operate DIECI Dumpers and Telehandlers?
DIECI Dumpers and Telehandlers are designed to be intuitive and easy to operate, with controls that are well-placed and easy to reach. Additionally, the machines feature advanced safety systems, such as automatic emergency brakes, to help prevent accidents and protect operators.