DITCH WITCH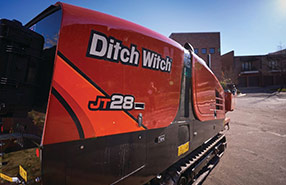 Factory Original Ditch Witch Manuals
Ditch Witch is one of the leading construction equipment manufacturers. Ditch Witch produces some of the most iconic equipment of all time including Directional Drills, Trenchers and Hydro Excavators to name a few. Click an equipment type from the list below or call us to purchase a factory original Ditch Witch operator, service repair, electrical wiring or parts catalog manual.
Click Your Ditch Witch Equipment Type Below
Related Questions
What types of construction equipment does Ditch Witch manufacture?
Ditch Witch is a leading manufacturer of a wide range of construction equipment, including trenchers, plows, horizontal directional drilling (HDD) equipment, vibratory plows, mini skid steers, and more. The company's products are used in a variety of applications, including utility installation, landscape maintenance, and residential and commercial construction.
Is Ditch Witch still in business?
Yes, Ditch Witch is still in business. Ditch Witch is a leading manufacturer of construction equipment and has been in operation for more than 70 years.
How does a Ditch Witch trencher work?
Trenchers typically consist of a track or wheeled chassis with an engine and a cutting chain mounted on the front. The cutting chain is driven by a hydraulic motor and rotates around a sprocket at the front of the machine. To use a Ditch Witch trencher, the operator drives the machine forward and guides it along the desired trench line. The cutting chain digs into the ground, creating a narrow trench as the machine moves forward. The soil and debris removed from the trench are typically deposited onto a conveyor belt or into a hopper at the rear of the machine.