GRADALL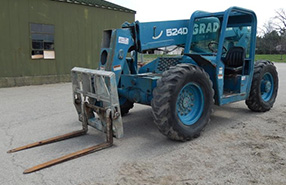 Factory Original Gradall Manuals
Gradall is one of the leading construction equipment manufacturers. Gradall produces some of the most iconic equipment of all time including the Excavators and Telehandler to name a few. Click an equipment type from the list below or call us to purchase a factory original Gradall operator, service repair, electrical wiring or parts catalog manual.
Click Your Gradall Equipment Type Below
Related Questions
How do I operate the boom on my Gradall?
To operate the boom on your Gradall, make sure the engine is running, and the transmission is in neutral. Check that the boom is in the desired position, and then engage the boom control lever lock. Use the boom control lever to raise or lower the boom as desired and release the lever lock when the boom is in the desired position.
How do I troubleshoot an issue with my Gradall?
If you are experiencing an issue with your Gradall, check the fuel level and make sure the fuel shutoff valve is in the 'On' position. Check the battery connections and make sure the battery is charged. Check the oil level and make sure it is at the correct level. Check the air filter and make sure it is clean. If the problem persists, it may be necessary to bring the Gradall to a mechanic or service center for further diagnosis and repair.
Where is Gradall manufactured?
Gradall is a brand of construction equipment that is manufactured by Gradall Industries, Inc., which is based in New Philadelphia, Ohio, in the United States. The company has been manufacturing construction equipment for over 70 years, and it is known for its innovative telescoping boom design and range of versatile attachments.