HYUNDAI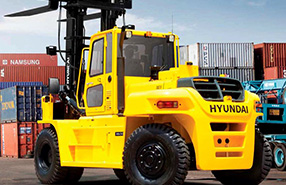 Factory Original Hyundai Manuals
Hyundai is one of the leading construction equipment manufacturers. Hyundai produces some of the most iconic equipment of all time including Wheel Loaders, Forklift and Skid Steers to name a few. Click an equipment type from the list below or call us to purchase a factory original Hyundai operator, service repair, electrical wiring or parts catalog manual.
Click Your Hyundai Equipment Type Below
Related Questions
Does Hyundai make heavy equipment?
Material-handling machinery, such as hydraulic excavators, wheel loaders, skid steer loaders, and electric and diesel forklifts, are available from Hyundai Construction Equipment Americas Inc. Additionally, they produce internal combustion cushions and pneumatic forklifts.
Does Hyundai make a skid steer?
Yes, Hyundai also makes skid steer loaders. Models HSL850-7A and HSL650-7A are Hyundai's best-made skid steer loaders.
What is the biggest Hyundai excavator?
The largest Hyundai excavator currently available is the Hyundai HL960HD. This excavator is designed for heavy-duty construction and mining applications.