INGERSOLL-RAND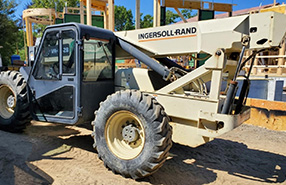 Factory Original Ingersoll-Rand Manuals
Ingersoll-Rand is one of the leading construction equipment manufacturers. Ingersoll-Rand produces some of the most iconic equipment of all time including the Compactor, Compressors, Forklift and Telehandler to name a few. Click an equipment type from the list below or call us to purchase a factory original Ingersoll-Rand operator, service repair, electrical wiring or parts catalog manual.
Click Your Ingersoll-Rand Equipment Type Below
Related Questions
How do I know how old my Ingersoll-Rand compressor is?
The serial number stamped on the nameplate consists or 8 or 9 characters. The first 2 numbers are the year the compressor was manufactured, and the 3rd character, a letter, denotes the month of manufacture.
Where do I find the model number on my Ingersoll-Rand air compressor?
Your Ingersoll-Rand Compressor will have a silver decal with all identifying information on the air receiver tank. The decal is almost always located near the discharge port on the tank.
What kind of oil would my 60-gal Ingersoll-Rand compressor use?
For both one-stage and two-stage compressors, Ingersoll-Rand recommends XL-300 Compressor oil. XL300 is non synthetic, and free from chemical and additives.