KUBOTA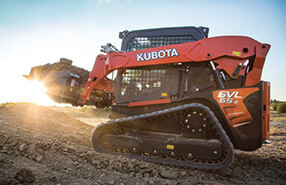 Factory Original Kubota Manuals
Kubota is one of the leading construction equipment manufacturers. Kubota produces some of the most iconic equipment of all time including the Engine, Tractor, Excavator and Loader to name a few. Click an equipment type from the list below or call us to purchase a factory original Kubota operator, service repair, electrical wiring or parts catalog manual.
Click Your Kubota Equipment Type Below
Related Questions
What are the different types of Kubota excavators available?
Kubota offers a range of excavators, including compact excavators, standard excavators, and zero-tail-swing excavators. Compact excavators are designed for tight spaces and narrow jobs, while standard excavators have a larger operating range and more power. Zero-tail-swing excavators have a minimal overhang, which allows them to operate in confined spaces without damaging surrounding structures.
What are the benefits of Kubota's backhoe loaders?
Kubota's backhoe loaders are versatile machines that can be used for digging, trenching, and grading. They are often used in construction, landscaping, and agriculture. Some of the benefits of backhoe loaders include their versatility, maneuverability, and ease of operation.
How does Kubota's variable horsepower technology work?
Kubota's variable horsepower technology (VHT) allows the engine to adjust its output depending on the task at hand. This helps to conserve fuel and reduce emissions, as well as providing more power when it is needed. By using a combination of sensors and advanced control systems, the engine can automatically adjust its RPM and fuel flow to match the demands of the load.