LINK-BELT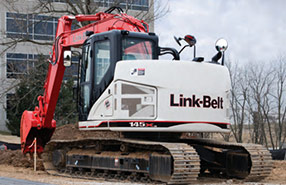 Factory Original Link-Belt Manuals
Link-Belt is one of the leading construction equipment manufacturers. Link-Belt produces some of the most iconic equipment of all time including the Cranes and Excavators to name a few. Click an equipment type from the list below or call us to purchase a factory original Link-Belt operator, service repair, electrical wiring or parts catalog manual.
Click Your Link-Belt Equipment Type Below
Related Questions
What engine is in the Link-Belt excavator?
The Link-Belt 145 X4 minimum-swing radius (MSR) excavator features an electronically controlled 102 horsepower Isuzu engine, while a Cummins QSB6 with 270 horsepower powers the Link-Belt 228 HSL.
Which Link-Belt crane classes are the most active?
The Link-Belt telescopic crawler line has never seen a slowdown, and this market continues to grow. So, this market has continued to be strong. After that, all markets have taken some hits.
What is the biggest Link-Belt excavator?
The Link-Belt 355 X4S is its Largest Excavator, with a net HP of 205 and an operating weight of 78,709 lbs.