MANITOU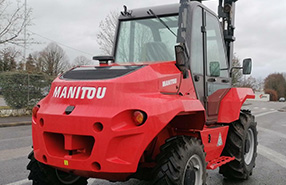 Factory Original Manitou Manuals
Manitou is one of the leading construction equipment manufacturers. Manitou produces some of the most iconic equipment of all time including the Forklift, Skid Steer, Lift and Telehandler to name a few. Click an equipment type from the list below or call us to purchase a factory original Manitou operator, service repair, electrical wiring or parts catalog manual.
Click Your Manitou Equipment Type Below
Related Questions
What weight can a Manitou MHT860 LT telehandler lift?
The Manitou MHT860 LT telehandler is designed for tough terrain and has a frame levelling capacity of 10 degrees +/-. With a maximum lifting capability of 6.0 tons, it is ideal for big construction sites requiring significant lift capacity.
Can you drive a Manitou on the road?
Before a telehandler may be used on the road, it must be completely registered, licensed, and have the appropriate tax disc. If the telehandler is going to be utilized in agriculture, it must be registered as an agricultural vehicle.
Where are Manitou tractors made?
Manitou Group is a French manufacturer and has facilities and production sites in several countries, including France, the United Kingdom, Germany, and the United States.