MITSUBISHI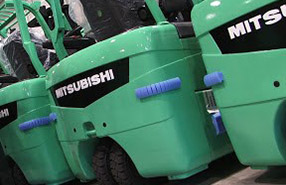 Factory Original Mitsubishi Manuals
Mitsubishi is one of the leading construction equipment manufacturers. Mitsubishi produces some of the most iconic equipment of all time including the Forklift among others. Click an equipment type from the list below or call us to purchase a factory original Mitsubishi operator, service repair, electrical wiring or parts catalog manual.
Click Your Mitsubishi Equipment Type Below
Related Questions
Can Mitsubishi forklifts be used in outdoor environments?
Yes, Mitsubishi forklifts are designed to withstand outdoor conditions, with features such as weather-resistant cabins and sealed electrical systems.
How long does it take to charge the battery of an electric Mitsubishi forklift?
The charging time for an electric Mitsubishi forklift varies depending on the model and the state of the battery. Typically, it takes 8-12 hours to charge a fully depleted battery.
What is the lifespan of a Mitsubishi forklift battery?
The lifespan of a Mitsubishi forklift battery typically ranges from 1,500 to 2,000 charge cycles or 2-5 years.