TEREX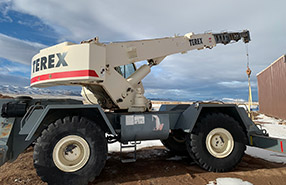 Factory Original Terex Manuals
Terex is one of the leading construction equipment manufacturers. Terex produces some of the most iconic equipment of all time including the Boom Truck, Crane and Telehandler to name a few. Click an equipment type from the list below or call us to purchase a factory original Terex operator, service repair, electrical wiring or parts catalog manual.
Click Your Terex Equipment Type Below
Related Questions
Is Terex Trucks still in business?
Volvo Construction Equipment purchased Terex Trucks in 2013. Terex Trucks was purchased for $160 million.
Does Terex still manufacture compact excavators?
Yes, Terex has more than 5 generations of compact excavator success. The compact excavators are made in the Rothenburg, Germany Facility.
Is Genie Lifts owned by Terex?
Yes, Genie is an American company that manufactures lifts and work platforms that are used in warehouse picking and stocking, construction, maintenance work, and for equipment installations. Terex is the owner of Genie.