FORKLIFT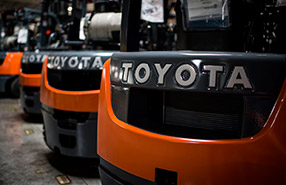 Factory Original TOYOTA FORKLIFT Manuals
Click below to select your model TOYOTA FORKLIFT. View factory original operator, service repair, electrical wiring diagram and parts catalog manuals for the TOYOTA FORKLIFT. If you're looking for FACTORY manuals, DIY Repair Manuals is your online superstore. Click or call now.
Click Your Model TOYOTA FORKLIFT
Related Questions
What should you check regularly on your forklift cushion tires?
You should regularly inspect your forklift cushion tires for tears, flat spots, and missing chunks of rubber. Also, make sure your tire is not worn to the wear line. Replace right away if any of these defects are present.
What is the number one cause of forklift accidents?
The number one reason for forklift accidents is a lack of proper forklift training and certification. OSHA stated that if companies implemented stricter training and certification policies, 70% of all forklift accidents could be avoided.
What must be done daily before operating a forklift? Or at shift change if the forklift operates round the clock?
OSHA states that there must be a daily visual inspection of the forklift. There then needs to be an operational inspection- where you would check tilt and controls, both front and back, acceleration, brakes, steering, lights horn, and safety equipment. And finally, there needs to be an available inspection log documenting every inspection.