FORKLIFT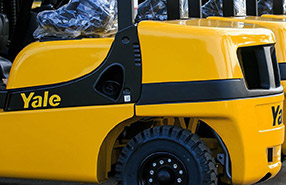 Factory Original YALE FORKLIFT Manuals
Click below to select your model YALE FORKLIFT. View factory original operator, service repair, electrical wiring diagram and parts catalog manuals for the YALE FORKLIFT. If you're looking for FACTORY manuals, DIY Repair Manuals is your online superstore. Click or call now.
Click Your Model YALE FORKLIFT
Related Questions
Do Electric Forklifts use AC or DC power?
Electric forklifts are powered with DC power. DC power, or Direct Current power, means the current only flows in one direction.
How often do you add water to a forklift battery?
You should add purified water to your forklift battery 1 time per week. Always make sure to add water AFTER charging is complete, not before or during.
How long will a forklift battery last?
How long will a forklift battery last?