AUTOCAR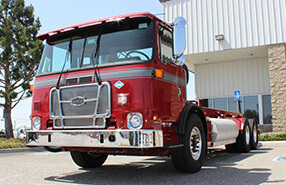 Factory Original Autocar Manuals
Autocar is one of the leading heavy truck manufacturers. Autocar produces some of the most iconic heavy trucks of all time including the Xpeditor, Xpert and Xspotter to name a few. Click a model from the list below or call us to purchase a factory original Autocar operators, service repair, electrical wiring or parts catalog manual.
Click Your Autocar Model Below
Related Questions
What type of engine options are available for Autocar heavy trucks?
Autocar heavy trucks are available with various engine options, including Cummins, Detroit Diesel, and Volvo engines. Autocar offers engines with horsepower ratings ranging from 250 to 605, depending on the model and configuration. Autocar trucks are known for their durability and reliability, and the engines are no exception.
How fuel-efficient are Autocar heavy trucks?
Autocar heavy trucks are designed with fuel efficiency in mind. Autocar offers a range of engines and transmissions that are optimized for fuel economy. The Autocar ACX and ACMD models are equipped with Cummins engines that offer up to 9% better fuel efficiency than the previous generation engines. The DC model features a Detroit Diesel DD16 engine that is optimized for fuel economy and emissions reduction.
Who are Autocar truck's competitors?
Autocar heavy trucks have several competitors in the market. Some of the main competitors of Autocar include Peterbilt, Kenworth, Mack Trucks, Western Star Trucks, and International. These brands are also known for producing heavy-duty trucks that can handle a variety of applications. Each brand has its own unique features and benefits, and customers may choose one over the other based on their individual preferences and needs. Ultimately, the choice of truck brand and model will depend on factors such as price, performance, reliability, and customization options.