FUSO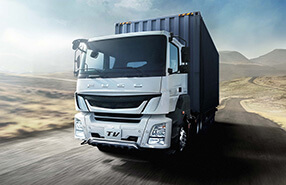 Factory Original Fuso Manuals
Fuso is one of the leading heavy truck manufacturers. Fuso produces some of the most iconic heavy trucks of all time including the FE, FG, FH, FK and FM to name a few. Click a model from the list below or call us to purchase a factory original Fuso operators, service repair, electrical wiring or parts catalog manual.
Click Your Fuso Model Below
Related Questions
What is the weight capacity of Fuso heavy trucks?
The weight capacity of Fuso heavy trucks varies depending on the model and configuration, with capacities ranging from 12,000 to 33,000 pounds.
Does the Fuso FH meet emissions regulations?
Yes, the Fuso FH meets or exceeds the latest emissions regulations, including the EPA's GHG17 standards.
Is Mitsubishi Fuso leaving the US?
Mitsubishi Fuso announced plans to withdraw from the North American market in 2020.