INTERNATIONAL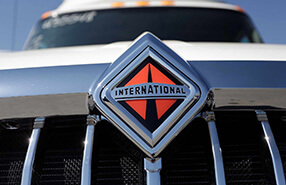 Factory Original International Manuals
International is one of the leading heavy truck manufacturers. International produces some of the most iconic heavy trucks of all time including the 4300, DT466, VT365, Durastar and Maxxforce to name a few. Click a model from the list below or call us to purchase a factory original International operators, service repair, electrical wiring or parts catalog manual.
Click Your International Model Below
Related Questions
Who does International use for its Truck engines?
Navistar International Corp, is the owner of both International Trucks, and International Engines. They are known for the DT466, DT466E, and the MaxxForce DT. These are very reliable engines that many times outlast the truck itself.
How many miles can a long-haul truck get to a full tank of diesel?
Assuming the truck has a 300-gallon fuel tank, and an average of 7 mpg, the truck would travel approximately 2100 miles on a tank of fuel. Of course, fuel tank sizes, and fuel efficiency may differ.
How long does an International Truck last?
On the average, a semi will last 750,000 miles or more. Some hit the million-mile mark with good care and regular maintenance.
Which is better- Peterbilt or International?
Peterbilt is highly regarded as the better, more reliable truck. They are also quite a bit more expensive. So, International may not be quite as reliable, but is also more affordable.