ISUZU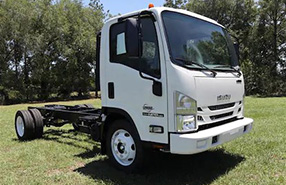 Factory Original Isuzu Manuals
Isuzu is one of the leading heavy truck manufacturers. Isuzu produces some of the most iconic heavy trucks of all time including the FRR, FTR, NPR and NRR to name a few. Click a model from the list below or call us to purchase a factory original Isuzu operators, service repair, electrical wiring or parts catalog manual.
Click Your Isuzu Model Below
Related Questions
What is the difference between the NRR and the NPR?
The NRR is a class 5 truck, one over the NPR. The NRR is 5000 pounds heavier than the NPR, and has larger brakes. Other than those couple of differences, the two are very similar.
What is the life expectancy of the Isuzu Diesel Engine?
The Isuzu 4HK1-TC engine has a life expectancy of 375000 miles before the engine will need a rebuild. This was upped from the previous rating of 310000 miles.
How much can the NRR tow?
The NRR that a GCWR Gross Combined Weight Rating of 25,500 pounds. So, when you take of the weight of the vehicle, you are left with a towing power of a little over 12000 pounds.