MACK TRUCKS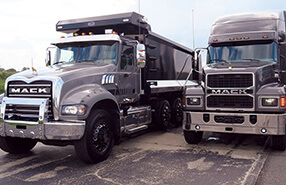 Factory Original Mack Trucks Manuals
Mack Trucks is one of the leading heavy truck manufacturers. Mack Trucks produces some of the most iconic heavy trucks of all time including the CH Series, R-Series, Vision and Pinnacle to name a few. Click a model from the list below or call us to purchase a factory original Mack Trucks operators, service repair, electrical wiring or parts catalog manual.
Click Your Mack Trucks Model Below
Related Questions
Is Mack Trucks still in business?
For 122 years, Mack Trucks has been producing some of the best semi-trucks on the road. Founded in 1900, it was originally called 'The Mack Brothers Company'. Mack Trucks is currently owned by the Swedish company 'AB Volvo Group'.
What is the Warranty of the purchase of a new Mack Truck?
The Mack Truck comes with a standard 12-month complete coverage warranty. You can add an option of a 12-month extension, for a full 24 months of coverage.
How much is a new Mack Anthem?
The Mack Anthem day cab starts around $100,000, and The Mack Anthem Sleeper Cab has prices starting around $140,000. Prices can increase depending on the option packages you choose.