STERLING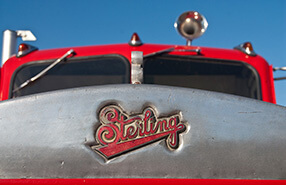 Factory Original Sterling Manuals
Sterling is one of the leading heavy truck manufacturers. Sterling produces some of the most iconic heavy trucks of all time including the A-Line, Acterra, Condor and L-Line to name a few. Click a model from the list below or call us to purchase a factory original Sterling operators, service repair, electrical wiring or parts catalog manual.
Click Your Sterling Model Below
Related Questions
What are the different models of STERLING Heavy Trucks?
Sterling Trucks Corporation produced various medium- and heavy-duty cab/chassis vehicles, including the Set-Back A-Line, Set-Back L-Line, Set-Forward L-Line, and Acterra. These trucks were utilized in various applications such as freight distribution, construction, snow plowing, and refuse collection.
Are STERLING Heavy Trucks equipped with air suspension systems?
Some STERLING Heavy Trucks, including the 8500 and 9500 Series Cab, have air suspension systems. These systems provide benefits such as improved ride comfort, better load stability, and the ability to adjust the ride height. It is important to note that specific air suspension options can vary depending on the model and configuration of the STERLING Heavy Truck.
What is the fuel tank capacity of STERLING Heavy Trucks?
The fuel tank capacity of STERLING Heavy Trucks can vary depending on the specific model and configuration. These trucks typically have fuel tank capacities ranging from 50 to 150 gallons. However, it's important to note that the exact fuel tank capacity can vary for different STERLING Heavy Truck models and versions.