WESTERN STAR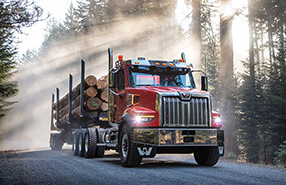 Factory Original Western Star Manuals
Western Star is one of the leading heavy truck manufacturers. Western Star produces some of the most iconic heavy trucks of all time including the 4800 Series, 4900 Series, 5800 Series and 5900 Series to name a few. Click a model from the list below or call us to purchase a factory original Western Star operators, service repair, electrical wiring or parts catalog manual.
Click Your Western Star Model Below
Related Questions
What is the warranty coverage for a Western Star truck?
Western Star offers a standard two-year/unlimited mileage warranty on their trucks, as well as extended warranty options.
What kind of engines are available for Western Star trucks?
Western Star offers a variety of engine options, including Detroit Diesel, Cummins, and Mercedes-Benz. Each engine is designed to meet different performance and emissions requirements.
Are Western Star trucks compliant with the latest emissions regulations?
Yes, Western Star trucks are designed to meet the latest emissions regulations, including the U.S. EPA's 2010 emissions standards and the Euro VI standards in Europe.