JOHNSON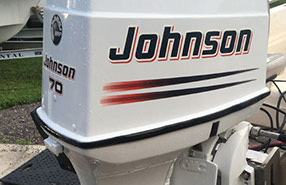 Factory Original Johnson Manuals
Johnson is one of the leading marine manufacturers. Johnson produces some of the most iconic watercraft of all time including the 9.9HP Motor, 70HP Motor and 100HP Motor 250HP Motor to name a few. Click a model from the list below or call us to purchase a factory original Johnson owners, service repair, electrical wiring or parts catalog manual.
Click Your Johnson Model Below
Related Questions
Can you still buy parts for Johnson outboard motors?
The business no longer produces outboard motors under the Johnson brand. However, reliable companies can still be found that offer services and readily available parts.
Are Johnson and Evinrude the same company?
Yes! The Evinrude and Johnson Motor Companies merged to become the Outboard Marine Corporation in 1936.
What happened to Johnson outboard motors?
Johnson Outboards were among the top marine engines in the world at various points throughout their history. Before being discontinued, they were known as the best manufacturer of less powerful engines, often 25 horsepower or less, yet these models are still considered high-quality motors.