BIG DOG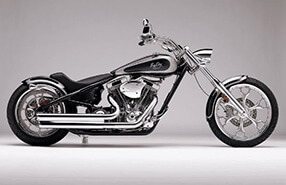 Factory Original Big Dog Manuals
Big Dog is one of the leading Motorcycle + ATV manufacturers. Big Dog produces some of the most iconic motorcycles of all time including the Bulldog, Chopper, Mastiff and Ridgeback to name a few. Click a model from the list below or call us to purchase a factory original Big Dog owners, service repair, electrical wiring or parts catalog manual.
Click Your Big Dog Model Below
Related Questions
What is the fuel tank capacity of a Big Dog BULLDOG motorcycle?
The fuel tank capacity of a Big Dog Bulldog motorcycle is approximately 4.5 gallons (17 liters). This capacity can vary slightly depending on the specific model year and any modifications or aftermarket additions made to the motorcycle.
How is the suspension system on Big Dog K9 motorcycles?
The Big Dog K9 motorcycle features a traditional suspension system. It utilizes telescopic front forks and a hidden horizontal rear suspension. The front forks provide damping and help absorb shocks and bumps on the road, while the rear suspension enhances stability and comfort during the ride. The suspension can be adjusted to accommodate different rider preferences and riding conditions.
What is the seat height of a Big Dog Mastiff motorcycle?
A Big Dog Mastiff motorcycle's seat height can be as low as 24.3 inches (616 mm) at its lowest setting, allowing for a lower seating position for riders who prefer a closer reach to the ground.