DUCATI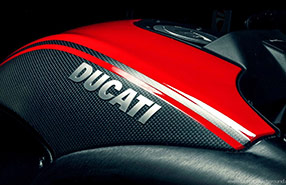 Factory Original Ducati Manuals
Ducati is one of the leading Motorcycle + ATV manufacturers. Ducati produces some of the most iconic motorcycles of all time including the Scrambler, Multistrada, Diavel and Panigale to name a few. Click a model from the list below or call us to purchase a factory original Ducati owners, service repair, electrical wiring or parts catalog manual.
Click Your Ducati Model Below
Related Questions
Do Ducati Motorcycles maintain their value?
The 3 motorcycle brands that maintain their value better than other brands are Harley Davidson, Ducati, and BMW. Ducati retains approximately 73% of its value at the 5-year mark.
How often should you change the oil on a Ducati?
The experts recommend oil should be changed on a motorcycle every 3700 miles. If you don't take your bike out often, and do not rack up 2000 miles per year, then change oil twice yearly.
Who owns Ducati?
The Italian Motorcycle brand Ducati has been part of the Volkswagen Audi Group since 2012. The VW Audi group's subsidiary Lamborghini gained 100% of the Ducati shares, and has had control since the 2012 acquisition.