HARLEY DAVIDSON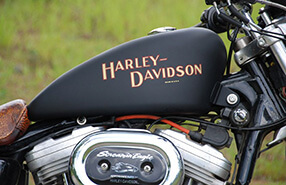 Factory Original Harley Davidson Manuals
Harley Davidson is one of the leading Motorcycle + ATV manufacturers. Harley Davidson produces some of the most iconic motorcycles of all time including the Touring, Electra Glide, Softail, Sportster, Dyna and FLT to name a few. Click a model from the list below or call us to purchase a factory original Harley Davidson owners, service repair, electrical wiring or parts catalog manual.
Click Your Harley Davidson Model Below
Related Questions
How often do I need to service my Harley?
Harley Davidson says at least every 5000 miles, but that is dependent on many conditions, and riding style, length between trips etc. It is always better to stay on top of oil changes, and err on the side of caution, to give you bike the most life you can. If you have a Harley Davidson Service Manual, you can do much if the service on the bike yourself. And, you will save money to boot.
How often should I have my Harley's oil changed?
Mineral Oil Should be changed ever 2000-3000 miles, at least once a year. Synthetic is 7000-10000 miles, at least once a year. And then semi-synthetic is every 5000-6000 miles at least once a year.
How much will a 5000-mile service visit cost me, if I choose not to do it myself?
You should expect to pay around $400. So, if you ride 20000 miles per year, your maintenance bill will be about $1600 annually. The first year would be approximately $2000, as there is a recommended 5th visit, the 1000-mile break in service for a new Harley. And, remember, this is all dependent on whether you take to the dealership for service, or DIY with a service repair manual.
What warranty comes with a new Harley Davidson?
A 2-yr Unlimited Warranty. There are also extended warranty plans that can lock in service costs. Extra coverage is also available for resale value, travel protection, and mechanical breakdowns.