INDIAN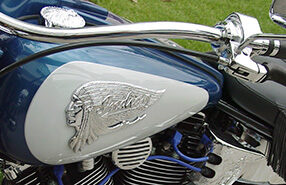 Factory Original Indian Manuals
Indian is one of the leading Motorcycle + ATV manufacturers. Indian produces some of the most iconic motorcycles of all time including the Chief, Scout and Spirit to name a few. Click a model from the list below or call us to purchase a factory original Indian owners, service repair, electrical wiring or parts catalog manual.
Click Your Indian Model Below
Related Questions
What are the differences between the Indian Scout and Indian Chief models?
The Indian Scout is a sportier and more agile motorcycle, while the Indian Chief is a larger and more touring-oriented motorcycle. The Chief also has a larger engine and more features for long-distance riding.
Are Indian motorcycles made in the USA?
Yes, Indian motorcycles are manufactured at the company's factory in Spirit Lake, Iowa, USA.
Do Indian motorcycles have a power-adjustable windshield?
Yes, many Indian motorcycle models come with a power-adjustable windshield as an option.