KAWASAKI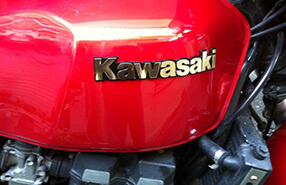 Factory Original Kawasaki Manuals
Kawasaki is one of the leading Motorcycle + ATV manufacturers. Kawasaki produces some of the most iconic motorcycles of all time including the Mule, Ninja, Teryx and Vulcan to name a few. Click a model from the list below or call us to purchase a factory original Kawasaki owners, service repair, electrical wiring or parts catalog manual.
Click Your Kawasaki Model Below
Related Questions
What is the most powerful Kawasaki motorcycle?
Some of the most powerful motorcycle models Kawasaki offers include the Ninja H2, Ninja H2R, ZX-14R, and Z H2. The Ninja H2 and H2R are supercharged sport bikes powered by a 998cc inline four-cylinder engine. The H2R is an even more powerful track-only version of the H2, with a claimed output of over 300 horsepower. The ZX-14R is a large-displacement sport bike powered by a 1,441cc inline four-cylinder engine. It has a claimed output of over 200 horsepower. The Z H2 is a naked motorcycle powered by a 1,038cc inline four-cylinder engine with a claimed output of over 200 horsepower.
How do I adjust the chain on my Kawasaki motorcycle or ATV?
To adjust the chain on your Kawasaki motorcycle or ATV, you will need a set of chain adjusters, a torque wrench, and a feeler gauge. First, place the bike on a stand or lift to raise the rear wheel off the ground. Then, measure the slack in the chain using the feeler gauge. If the chain is too tight, loosen the rear axle nut and use the chain adjusters to add slack. If the chain is too loose, tighten the adjusters to remove slack. Once the desired amount of slack has been achieved, tighten the rear axle nut to the manufacturer's recommended torque and check the chain tension again to ensure it is correct.
Can I add aftermarket parts to my Kawasaki motorcycle or ATV?
Yes, adding aftermarket parts to a Kawasaki motorcycle or ATV is generally possible. However, it's important to be aware that installing aftermarket parts can affect the performance and handling of your vehicle and may void the manufacturer's warranty. It's always a good idea to research and purchase high-quality parts from reputable manufacturers and to consult with a mechanic or the manufacturer before making any modifications to your vehicle.