MOTO GUZZI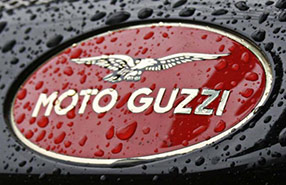 Factory Original Moto Guzzi Manuals
Moto Guzzi is one of the leading Motorcycle + ATV manufacturers. Moto Guzzi produces some of the most iconic motorcycles of all time including the Normale, Griso, V7 and Galleto to name a few. Click a model from the list below or call us to purchase a factory original Moto Guzzi owners, service repair, electrical wiring or parts catalog manual.
Click Your Moto Guzzi Model Below
Related Questions
What are some of the most popular Moto Guzzi models?
Some of the most popular Moto Guzzi models include the V7, California, and the Eldorado. Each model offers a unique combination of performance and style and is designed to meet the needs of different types of riders.
What are the key features of the Moto Guzzi Eldorado?
The Moto Guzzi Eldorado is a classic cruiser motorcycle that is powered by a 1,400cc engine. It features a traditional steel frame and a relaxed, laid-back riding position. The Eldorado also comes with a range of modern features, including a fuel-injected engine, traction control, and ABS brakes. The Eldorado is also equipped with a windshield, floorboards, and a spacious seat.
How often do I need to service my Moto Guzzi?
The frequency of service required for your Moto Guzzi will depend on the model, as well as how often you ride it. As a general rule, it's a good idea to have your motorcycle serviced every 6,000 miles (or every 6 months) to ensure that it runs smoothly and safely.