SUZUKI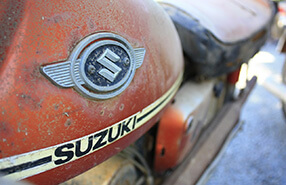 Factory Original Suzuki Manuals
Suzuki is one of the leading Motorcycle + ATV manufacturers. Suzuki produces some of the most iconic motorcycles of all time including the Hayabusa, Intruder, Marauder, Quadrunner and Vinson to name a few. Click a model from the list below or call us to purchase a factory original Suzuki owners, service repair, electrical wiring or parts catalog manual.
Click Your Suzuki Model Below
Related Questions
Are Suzuki ATVs still being manufactured?
Yes, Suzuki is still going strong with the KingQuad ATV. The 2023 model is set to roll. In addition to the KingQuad lineup, Suzuki is still nailing it with their youth line of off-road motorcycles and ATVS.
How much is a 1983 Suzuki LT125?
The value of the 1983 LT125 varies between $475-$2675 depending on whether the unit is in fair to excellent condition. This is according to JD Powers Valuations.
What is Suzuki's most powerful bike?
The Suzuki GSX1300R Hayabusa is the fastest bike in Suzuki history. It has an average top speed of 186mph. The Hayabusa has been in production since 1999.