TRIUMPH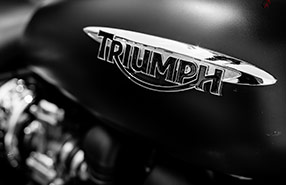 Factory Original Triumph Manuals
Triumph is one of the leading Motorcycle + ATV manufacturers. Triumph produces some of the most iconic motorcycles of all time including the Street Triple, Tiger, Thruxton and Bonneville to name a few. Click a model from the list below or call us to purchase a factory original Triumph owners, service repair, electrical wiring or parts catalog manual.
Click Your Triumph Model Below
Related Questions
What is the rarest Triumph motorcycle?
One of the rarest Triumph specials from the 1960s is the Triumph Bonneville TT Special. It was designed exclusively for the American market. At the time of its production, the Bonneville was the top-of-the-line Triumph motorbike, capable of 115 mph (185 km/h) in factory standard trim - a scorching speed for the time.
Which Triumph is best for beginners?
The most suitable Triumph bike for beginners is Triumph Street Scrambler. This motorbike is beautiful both inside and out. It features a blend of new technologies such as ABS, traction control, throttle-by-wire, and fuel efficiency with the look and feel of old scrambler-style motorbikes from the 50s to 70s.
Do Triumphs hold their value?
In general, Triumph motorcycles tend to retain their value over time. Some of the classic and limited-edition models, such as the Triumph Bonneville, are particularly sought after by collectors. As a result they often fetch high prices.