VESPA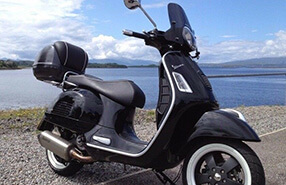 Factory Original Vespa Manuals
Vespa is one of the leading Motorcycle + ATV manufacturers. Vespa produces some of the most iconic motorcycles of all time including the GTS300 among others. Click a model from the list below or call us to purchase a factory original Vespa owners, service repair, electrical wiring or parts catalog manual.
Click Your Vespa Model Below
Related Questions
What is the difference between Vespa Primavera and Vespa Sprint?
Vespa Primavera and Vespa Sprint are two popular models of Vespa scooters. While both models share a similar design and engine capacity, the Vespa Sprint is slightly larger and offers more power than the Primavera. Additionally, the Vespa Sprint comes with additional features such as a digital instrument cluster, LED lights, and a front storage compartment.
What is the engine capacity of the Vespa GTS?
Vespa GTS is a high-performance model of Vespa Scooter that comes with a 300cc engine capacity, which is the largest engine capacity in the Vespa lineup. The Vespa GTS is designed for long-distance riding and offers a smooth and powerful ride on the road.
How often should I replace the tires of my Vespa Scooter?
The lifespan of Vespa Scooter tires depends on the usage, riding conditions, and model of the scooter. As a general guideline, it is recommended to replace the tires after every 10,000-15,000 kilometers of riding or every three years, whichever comes first.