F-150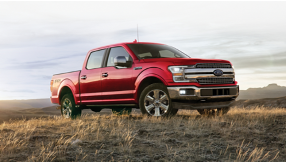 Factory Original FORD F-150 Manuals
Click below to select your year FORD F-150. View factory original owners, service repair, electrical wiring diagram and parts catalog manuals for the FORD F-150. If you're looking for FACTORY manuals, DIY Repair Manuals is your online superstore. Click or call now.
Click Your Year FORD F-150
Related Questions
What is the average lifespan of the Ford F-150?
A Ford F-150 can last anywhere between 150,000-300,000 miles. There are many determining factors that will affect the mileage your F-150 gets. Regular care and maintenance, driving practices, and even model year all affect the life expectancy.
What was the last year the Ford F-150 was offered with a manual transmission?
2008 was the last year of a manual transmission option in the Ford F-150. Ford has since only offered an automatic transmission in their F-150 models.
What is the best-selling truck in the US?
The Ford F-Series Truck has been the best-selling truck in the US for the past 4 decades. The F-series includes the F-150, F-250, F-350, F450 pickups. It also includes the chassis trucks F-550, F-650, and F-750. Of these, the Ford F-150 continues to be the F-Series best seller.