WHEEL LOADERS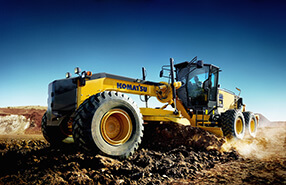 Factory Original KOMATSU WHEEL LOADERS Manuals
Click below to select your model KOMATSU WHEEL LOADERS. View factory original operator, service repair, electrical wiring diagram and parts catalog manuals for the KOMATSU WHEEL LOADERS. If you're looking for FACTORY manuals, DIY Repair Manuals is your online superstore. Click or call now.
Click Your Model KOMATSU WHEEL LOADERS
Related Questions
What is Komatsu's most giant wheel loader?
The largest wheel loader currently offered by Komatsu is the WA1200-8, which has a bucket capacity of up to 30 cubic meters and a payload capacity of up to 120 tons. This wheel loader is designed for large-scale mining and construction operations and is equipped with a powerful engine and advanced features to increase productivity and efficiency.
Does Komatsu offer wheel loaders with all-wheel drive?
Yes, some models of Komatsu wheel loaders are equipped with all-wheel drive, which provides improved traction and stability on rough or uneven terrain. All-wheel drive wheel loaders are well-suited for mining and construction operations, where they may encounter challenging working conditions.
What is the maximum speed of a Komatsu wheel loader?
The maximum speed of a Komatsu wheel loader varies depending on the specific model and its design. Some models, such as the WA320-7, have a maximum speed of up to 38 km/h, while others, like the WA470-8, have a maximum speed of up to 40 km/h.