KOMATSU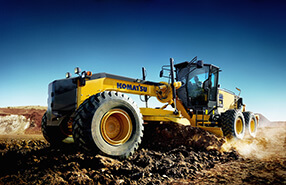 Factory Original Komatsu Manuals
Komatsu is one of the leading construction equipment manufacturers. Komatsu produces some of the most iconic equipment of all time including the Excavator, Bulldozer, Loader and Motor Grader to name a few. Click an equipment type from the list below or call us to purchase a factory original Komatsu operator, service repair, electrical wiring or parts catalog manual.
Click Your Komatsu Equipment Type Below
Related Questions
Which company is bigger, Komatsu or Caterpillar?
In the construction and heavy equipment area- Caterpillar holds the #1 spot as the world's largest manufacturer of construction equipment, followed in a close second by Komatsu.
Which company manufactures the best excavator?
Caterpillar is ranked as the best in the #1 position. Volvo is #2, and Komatsu is in the #3 spot. But, for being in the top 3, they tend to have a lower price point, making them a desirable investment.
What is the average life expectancy of an excavator?
Average lifespan is approximately 10000 hours. After this point, most major components will have to be repaired or replaced.