NEW HOLLAND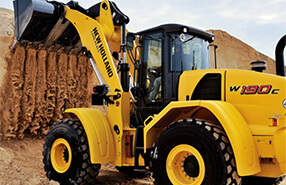 Factory Original New Holland Manuals
New Holland is one of the leading construction equipment manufacturers. New Holland produces some of the most iconic equipment of all time including the Loader, Dozer, Excavator, Skid Steer and Motor Grader to name a few. Click an equipment type from the list below or call us to purchase a factory original New Holland operator, service repair, electrical wiring or parts catalog manual.Click here for New Holland Agricultural Manuals
Click Your New Holland Equipment Type Below
Related Questions
What are Unit Repair Manuals?
Unit repair manuals are instruction manuals for completing overhaul procedures on vehicles and equipment. A unit repair manual would normally include engine, transmission, and drive axle overhaul instructions
Is a service manual and a repair manual the same?
Yes, both terms mean the same thing. The main thing to pay attention to when purchasing a service manual is to make sure you get a Factory Original manual, written by the equipment manufacturer. 3rd party service manuals are not as model specific, nor detailed as OEM manuals, and may even contain inaccurate information.
What is included in an Operator and Maintenance manual?
An Operator and Maintenance manual should be kept In machine at all times. It will give you visual descriptions of all controls, and parts of your equipment as well as in depth operating instructions. The Operator Maintenance manual will also help walk you through routine preventative maintenance procedures.