ISB/QSB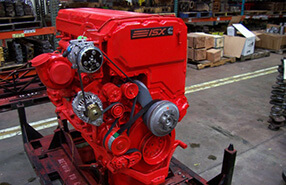 Factory Original CUMMINS ISB/QSB Manuals
Click below to select your year CUMMINS ISB/QSB. View factory original operators, service repair, electrical wiring diagram and parts catalog manuals for the CUMMINS ISB/QSB. If you're looking for FACTORY manuals, DIY Repair Manuals is your online superstore. Click or call now.
Click Your Year CUMMINS ISB/QSB
Related Questions
What is the difference between Cummins ISB and QSB?
Cummins ISB and QSB are both diesel engines produced by Cummins Inc. ISB stands for 'Interact System B.' while QSB stands for 'Quiet System B.' Both engines are part of Cummins' B-series of engines. The main difference between the ISB and QSB engines is their size and power output. The ISB engine is a medium-duty engine of various sizes, from 4.5 to 6.7 litres. The QSB engine is smaller, with a displacement of 3.9 to 5.9 litres.
What applications are the Cummins ISB and QSB engines suitable for?
The Cummins ISB engine is suitable for many medium-duty applications, including buses, delivery trucks, and other commercial vehicles. The QSB engine is suitable for smaller vehicles and equipment, such as construction equipment and boats, where a compact and powerful engine is needed.
Are the Cummins ISB and QSB engines reliable?
Cummins is known for producing reliable engines, and the ISB and QSB engines are no exception. Both engines are built to high standards and are designed to be durable and reliable in various applications.