CUMMINS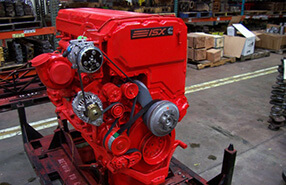 Factory Original Cummins Manuals
Cummins is one of the leading heavy truck manufacturers. Cummins produces some of the most iconic heavy trucks of all time including the ISB, ISC, ISL, ISX and QSX to name a few. Click a model from the list below or call us to purchase a factory original Cummins operators, service repair, electrical wiring or parts catalog manual.
Click Your Cummins Model Below
Related Questions
Does Ford Own Cummins?
Long rumored that Cummins was owned by an automobile manufacturer, both Ford and Chrysler have been named as owners. But the fact is that Cummins Turbo Technologies is an independent company, and has stockholders. The top 10 'Owners', are capital management and investment companies, such as Charles Schwab and Vanguard.
Cummins or Duramax- Which one rules?
Cummins leads with torque, but Duramax has the lead in horsepower. Duramax is generally found in GM and Chevy; while Cummins is primarily in the Ram Truck line. So, it really depends on what you are looking for.
How cold can it get before I should plug in a block heater for my diesel engine?
A good gauge is to plug in in anytime the weather is 5 degrees or lower. You should allow 2-4 hours for the engine block heater to work before starting.