ISC/QSC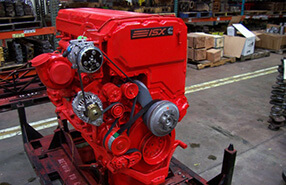 Factory Original CUMMINS ISC/QSC Manuals
Click below to select your year CUMMINS ISC/QSC. View factory original operators, service repair, electrical wiring diagram and parts catalog manuals for the CUMMINS ISC/QSC. If you're looking for FACTORY manuals, DIY Repair Manuals is your online superstore. Click or call now.
Click Your Year CUMMINS ISC/QSC
Related Questions
What is the difference between the ISC and QSC models of Cummins engines?
The ISC (Interact System Control) and QSC (Quiet Diesel System Control) are both 8.3-liter diesel engines produced by Cummins, but the QSC model includes additional features such as electronic controls and a compacted graphite iron engine block.
What is the recommended oil viscosity for my ISC/QSC Cummins engine?
Cummins recommends using a 15W-40 oil with the API CJ-4 rating for ISC/QSC engines.
What is the maximum horsepower and torque output of the ISC/QSC Cummins engine?
The ISC and QSC models have a maximum horsepower output of 280-400 horsepower and a maximum torque output of 1000-1050 lb-ft.