ISX/QSX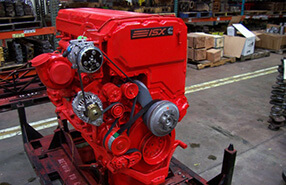 Factory Original CUMMINS ISX/QSX Manuals
Click below to select your year CUMMINS ISX/QSX. View factory original operators, service repair, electrical wiring diagram and parts catalog manuals for the CUMMINS ISX/QSX. If you're looking for FACTORY manuals, DIY Repair Manuals is your online superstore. Click or call now.
Click Your Year CUMMINS ISX/QSX
Related Questions
What is the life expectancy of a Cummins ISX?
The Cummins ISX has an expected life of 300K-400K miles. But that being said, there are many that last 500K easily, with proper care and maintenance.
How often do you change the oil in a Cummins ISX?
Oil Change frequency is recommended by type of use. Change Cummins ISX oil every 35,000 miles if light-duty, every 25,000 miles for normal use, and every 15,000 for heavy duty use.
How much oil does the Cummins ISX hold?
The oil system capacity on the Cummins ISX is 14 gallons. The recommended oil for the Cummins ISX is Valvoline Premium Blue Extreme Full Synthetic Engine Oil.