V/VT/VTA/VTB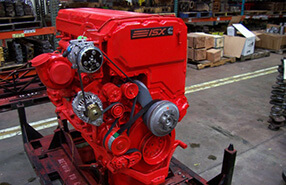 Factory Original CUMMINS V/VT/VTA/VTB Manuals
Click below to select your year CUMMINS V/VT/VTA/VTB. View factory original operators, service repair, electrical wiring diagram and parts catalog manuals for the CUMMINS V/VT/VTA/VTB. If you're looking for FACTORY manuals, DIY Repair Manuals is your online superstore. Click or call now.
Click Your Year CUMMINS V/VT/VTA/VTB
Related Questions
Are Cummins VTB engines compatible with automatic transmissions?
Yes, Cummins VTB engines are compatible with automatic transmissions. Cummins engines are designed to work seamlessly with a wide range of transmission options, including automatic transmissions commonly used in heavy-duty applications. This compatibility allows flexible integration into vehicles and equipment requiring automatic transmission functionality.
What are the typical applications for Cummins VTA engines?
Cummins VTA engines do have a proven legacy in tough commercial marine environments. They are used in marine applications, including emergency or ship service power, power units, fire pumps, and hydraulic units. Additionally, the V903 engine within the VTA series is widely utilized in military and commercial applications, showcasing its versatility and reliability across different sectors.
What type of oil is recommended for Cummins V/VT/VTA/VTB engines?
Cummins Inc. advises the utilization of high-quality diesel engine oils, such as Valvoline Premium Blue? or Valvoline Premium Blue Extreme Life?, or comparable alternatives, for their V/VT/VTA/VTB engines. These oils are designed to meet Cummins' specific requirements and deliver exceptional lubrication and protection.