ISL/QSL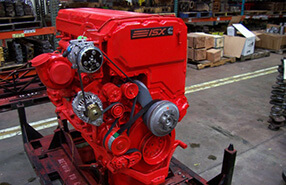 Factory Original CUMMINS ISL/QSL Manuals
Click below to select your year CUMMINS ISL/QSL. View factory original operators, service repair, electrical wiring diagram and parts catalog manuals for the CUMMINS ISL/QSL. If you're looking for FACTORY manuals, DIY Repair Manuals is your online superstore. Click or call now.
Click Your Year CUMMINS ISL/QSL
Related Questions
What is the life expectancy of a Cummins ISL?
The life expectancy of a Cummins ISL engine can vary depending on the application, maintenance, and operating conditions. However, the engine is designed to last for at least 400,000-500,000 miles or 15,000 hours of operation with proper care and maintenance. Some engines have been known to last even longer with regular maintenance and repairs.
Can the CUMMINS ISL/QSL engine be used in a marine application?
The CUMMINS ISL/QSL engine can be used in marine applications. The engine is suitable for various commercial marine vessels, including ferries, tugboats, and cargo ships. With its high power output and reliable performance, the CUMMINS ISL/QSL engine is a popular choice for many marine applications.
What kind of cooling system does the CUMMINS ISL/QSL engine use?
The CUMMINS ISL/QSL engine uses a closed-loop cooling system, also known as a pressurized system, which circulates coolant through the engine block and cylinder head to remove heat. The system includes a radiator, water pump, thermostat, and coolant tank, and it is designed to maintain a consistent temperature throughout the engine. This cooling system is efficient and effective at keeping the engine at a safe operating temperature, which helps prolong the engine's lifespan and prevent overheating.